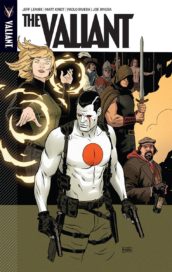 I've seen some other stores reviving the book club concept, so I figure I would as well. Its always fun to get together and have discussions about books. We do it every week on the podcast, but this will be for an entire graphic novel. I'm going to start with The Valiant TP. Valiant has been putting out really strong books and I'd love to get them a wider audience. Plus they are ridiculously supportive of comic book stores. Also, if you want to brush up on Valiant, check out our post from last year during Valiant Comics Month.
If you are interested, please let me know by filling out the form below. I am offering 25% off purchases of the book (so The Valiant is only $7.50!) for the Book Club, but I need to know how many to order in. 
I am tentatively setting the date as Friday, Feb. 24th for the first one, and we'll plan on making this a monthly for future books as well. We'll get together and talk about the book, and I'll also record it for a special podcast for those that can't make it or just want to hear what it's all about.