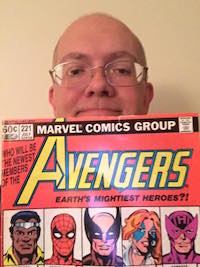 I've been reading comic books since before I learned how to read, starting with Archie, Looney Tunes, Richie Rich, Hanna-Barbera and "Star Wars."
It wasn't until 1982 that I got into the Marvel and DC universes when something possessed me to plunk down my 60 cents for Avengers no. 221. It was the classic "Brady Bunch" squares-style cover featuring Spider-Man, Wolverine, Dazzler and ROM: Spaceknight that asked: "Who will be the newest members of the Avengers: Earth's Mightiest Heroes?!" I had to know and have been hooked ever since. (Spoiler alert: Hawkeye and She-Hulk joined.) And what a time to get into comics! "Crisis on Infinite Earths," "The Dark Knight Returns," "Watchmen," "Secret Wars" and John Byrne's "Fantastic Four." All bought off the rack. I've been reading comics ever since and didn't stop through college and my (so-called) adult life. Why should I stop when there's so much great stuff to read?
My favorite run of all-time is Grant Morrison's "Animal Man" nos. 1-26 in the late 1980s. This series really made me recognize what comics could achieve. I expanded into creator-owned titles and more offbeat stuff from independent publishers over the following years: "American Flagg!," "Y the Last Man," and "Essex County." But I still love "Archie" comics, too.
And talking comics every week with these guys is a blast. I'd love to hear about what you love. Come join us every Wednesday evening to discuss comics!