This is the place to come for all Pittsburgh Comics Podcast info.  We will be expanding all of our stuff on here as we figure it out.
Podasters: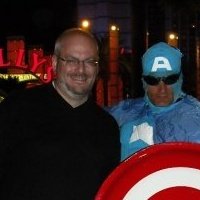 Colin McMahon (on the left)
His Story:
My name is Colin McMahon and I opened a comics book store back in September of 2006. After graduating from Penn State back in 1990, I bounced around from many different jobs, trying to find something I wanted to do. My degree is in Economics which sadly means I am qualified to do absolutely nothing.
Waaaay back in 1993, while working at a job selling cars (not the right job for me, but it paid the bills) my wife said "You love comics, why don't you open a comics books store?" That's right. I married the best woman in the world. Well, I thought about it for quite a while. I lost my job at the dealership because all I was thinking about was opening the store. I was looking at storefronts and just about ready to sign a lease when Marvel bought Heroes World Distribution and the whole comic book industry was turned on it's head. I backed off until things settled down. And I am glad I did. I don't think I could have survived.
One fun thing I started doing at this time was doing local conventions. Mostly small ones. I priced my then small collection and set up a table and had a blast.
I then got a job at Radio Shack, working as Christmas help to make some money during the holidays. I ended up sticking around and eventually ran 2 different stores in the area. While not the greatest job, it did provide me with retail management experience, which has been invaluable to me now.
Flash forward to 1998. Beloved wife wants to get he doctorate and we move to Chicago, where my mom lives and I grew up. I start working at a law firm of a high school friend. I enjoy the work and consider going to law school. But the idea of opening a comic book store is still there in the back of my mind. I decide that how I do on my entrance exam will determine my course of action. Well I aced the LSAT and law school, here I come. Good thing too, becasue around this time or before, Marvel filed for bankruptcy and things once again got a little wonky in the comics biz.
So I finish law school adn we move back to Pittsburgh. Finding a job as a lawyer proves more difficult than I thought and I open my own office, which fails miserably. Not my true calling. Not enough of a go-getter and not confident about my ability. Eventually get a job at a title company working 6PM to 2AM running the night shift and answering calls form evening closings. Not the best situation, but it worked well becasue I could watch the kids during the day.
After 4 years of this, I finally decided I had had enough. My mom passed away in the fall of '05 and I finally had some money to open the store. I registered my no useless name and set up an LLC in December. In the Spring, I started looking at storefronts. I finally found a good one and left my job the end of July.
Diamond Comics Distributor required a reference to open an account, so I approached Todd McDevitt, the owner of New Dimension Comics, about helping me open an account. I had been shopping with odd since about 1995, when I found his store between home and the Radio Shack I was running. New Dimension has 4 stores, all to the North and East of Pittsburgh. My store in in the South Hills of Pittsburgh and about 45 minutes from any of the other New Dimensions, so I new I would not really be in competition with him directly.
Todd came back with the idea of me opening another store for him. This let me get past most of the new business problems. It also gave me access to the stock of his stores, a name with instant credibility and a larger discount than I could have gotten on my own.
In August of 2010, I decided to break away from New Dimension Comics and go my own way.  On September 7th, 2010, Pittsburgh Comics was born.  Then last summer we had the crazy notion of doing a podcast in the store.  Stick around to see what other craziness we may come up with.
————————————————————————————————————————————————————————————————————————————–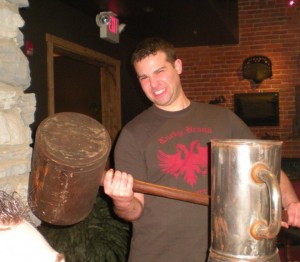 Joe F (20+ year comic veteran)
Joe F has been reading comics so long his collection can legally buy alcohol.
When Joe F started reading comics, the Walking Dead was only sick.
Joe F has been collecting comics so long that he read stories when Lex Luthor still had hair.
Joe F has been collecting comics so long that he has the issue where Captain America was still a Lieutenant.
Joe F has been collecting comics for so long that his memory for continuity is not what it used to be.  Also, his memory for continuity is not what it used to be.
—————————————————————————-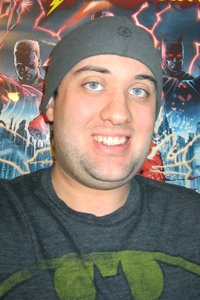 Adam Russell
In the 90s, I grew up with the Spider-Man, X-Men, and Batman animated shows. Even though I didn't collect comic books then, I was always into the characters. As time went on, there were less of these shows on TV and I didn't really get to see much of these characters anymore. In 2002, Sony Pictures released the movie Spider-Man in theaters, and I was drawn back in again.  Though it wasn't until the next year that I start to get comic books. I was on a trip with my parents in Ohio when we stopped at a mall. While in the book store I decided to get a copy of Ultimate Spider-Man #44, and from that issue I was hooked. I had to read the next issue and all that were before it. From there I starting getting Amazing Spider-Man, Fantastic Four and Avengers.
At the time, I was getting all of my book from Walden Books because there wasn't a decent, local comic shop in the area yet. I actually never got my books from a comic book store until I went to College. When Pittsburgh Comics opened, I was really happy knowing that I may be coming back to this area after college.
I don't consider myself an expert on comics, but I just like to read good stories. I truly like sitting around and talking about comic books. I mainly collect Amazing Spider-Man and Batman books, but I have much more than that on my pull list anymore.
You can follow me on Twitter @AdamRussell2
Plus, you can go read my Tumblr at http://adamrusell.tumblr.com/
Otherwise, keep listening and enjoy!