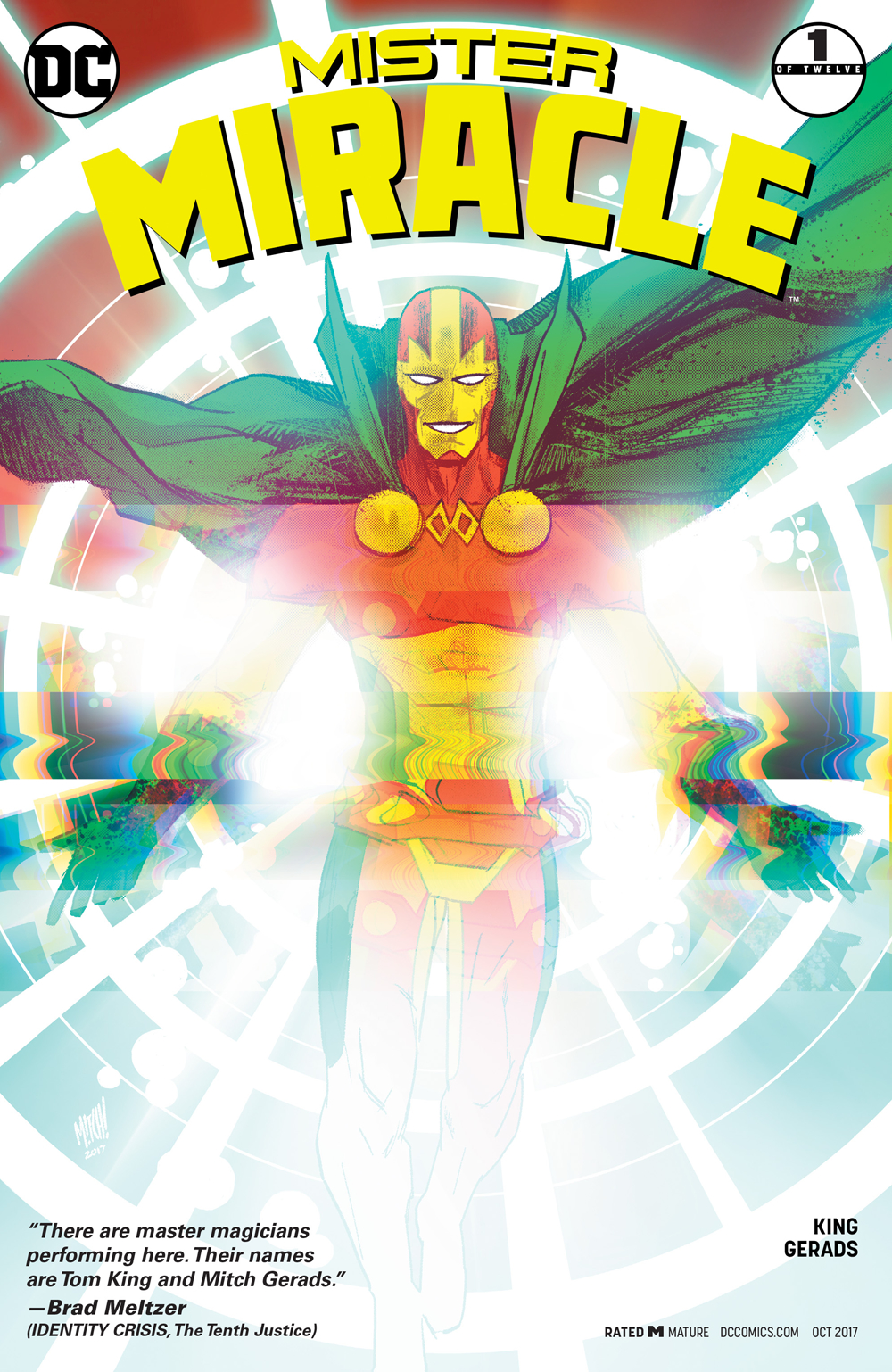 MISTER MIRACLE #1 | Picked by Colin, Josh, Pat, & Adam
(W) Tom King (A/CA) Mitch Gerads
From the team behind THE SHERIFF OF BABYLON and the Hugo Award-nominated writer of Vision comes a unique new take on one of Jack Kirby's most beloved New Gods.
Scott Free is the greatest escape artist that ever lived. So great that he escaped Granny Goodness' gruesome orphanage and the dangers of Apokolips to travel across galaxies and set up a new life on Earth with his wife, the former female fury known as Big Barda. Using the stage alter ego of Mister Miracle, he has made a career for himself showing off his acrobatic escape techniques. He even caught the attention of the Justice League, which counted him among its ranks. 
You might say Scott Free has everything...so why isn't it enough? Mister Miracle has mastered every illusion, achieved every stunt, pulled off every trick-except one. He has never escaped death. Is it even possible? Our hero is going to have to kill himself if he wants to find out.
Written by Tom King (BATMAN) and illustrated by Mitch Gerads (The Punisher), this is a MISTER MIRACLE unlike any you've read before.
SHADOW #1 | Picked by Colin
(W) Si Spurrier, Dan Watters (A) Daniel HDR (CA) Kenneth Rocafort
For the better part of a century the Shadow's sinister laughter brought the chill of fear to evil-doers - but in our modern times, the streets of Manhattan have gone largely silent. But he is not forgotten. Not by the people he's saved. Mary Jerez, is one of those people. The Shadow saved her from a horrifying school shooting - Mary knows all too well what evil lurks in the hearts of men.  So when a horribly burnt man - incredibly strong and fierce, despite his terrible injuries- arrives under her care as a resident at the hospital - she believes she knows who he is, too. Is this mysterious man actually the Shadow - and with Mary's help, will evil-doers again know what it means to fear his terrible justice? Si Spurrier (X-Force, X-Men: Legacy, Judge Dredd) and Daniel HDR (Superman, Cyborg) bring the pulp icon into modern day in a tale full of deadly intrigue, gun-blazing action, and a study of the nature of evil!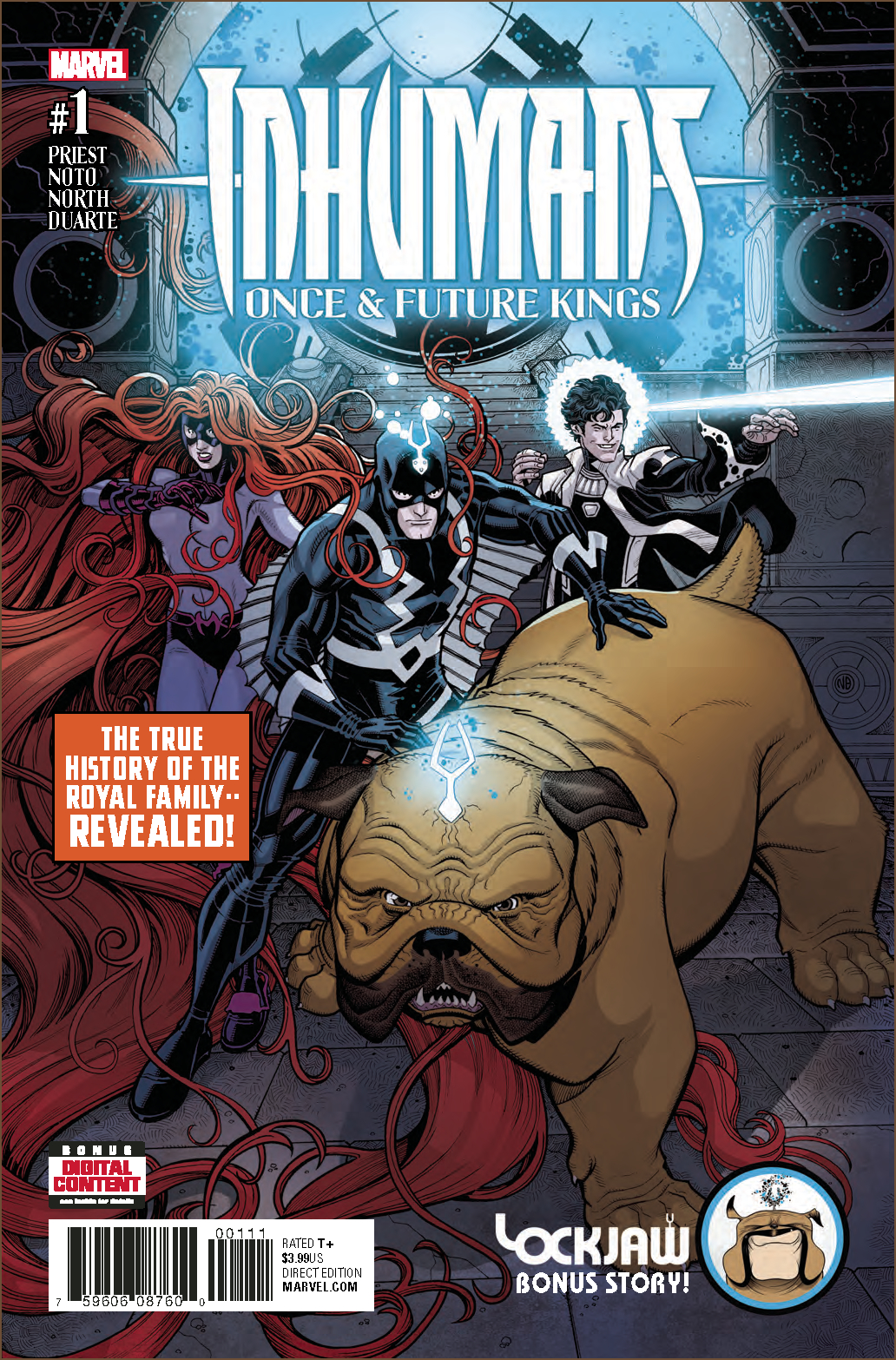 INHUMANS ONCE FUTURE KINGS #1 | Picked by Colin
(W) Christopher Priest, Ryan North (A) Phil Noto, Gustavo Duarte (CA) Nick Bradshaw
SOMEDAY, ALL OF THIS WILL BE YOURS!
A king in training. A brother destined for madness. These are the early days of the Boltagon legacy. When the king of the Inhumans is attacked, Black Bolt and Maximus spring into action to save their leader! But when Black Bolt loses control, what are the consequences for his future kingdom - or his own family? Plus: A two-page backup (in every issue!) starring Lockjaw, as told by UNBEATABLE SQUIRREL GIRL writer Ryan North and artist supreme Gustavo Duarte!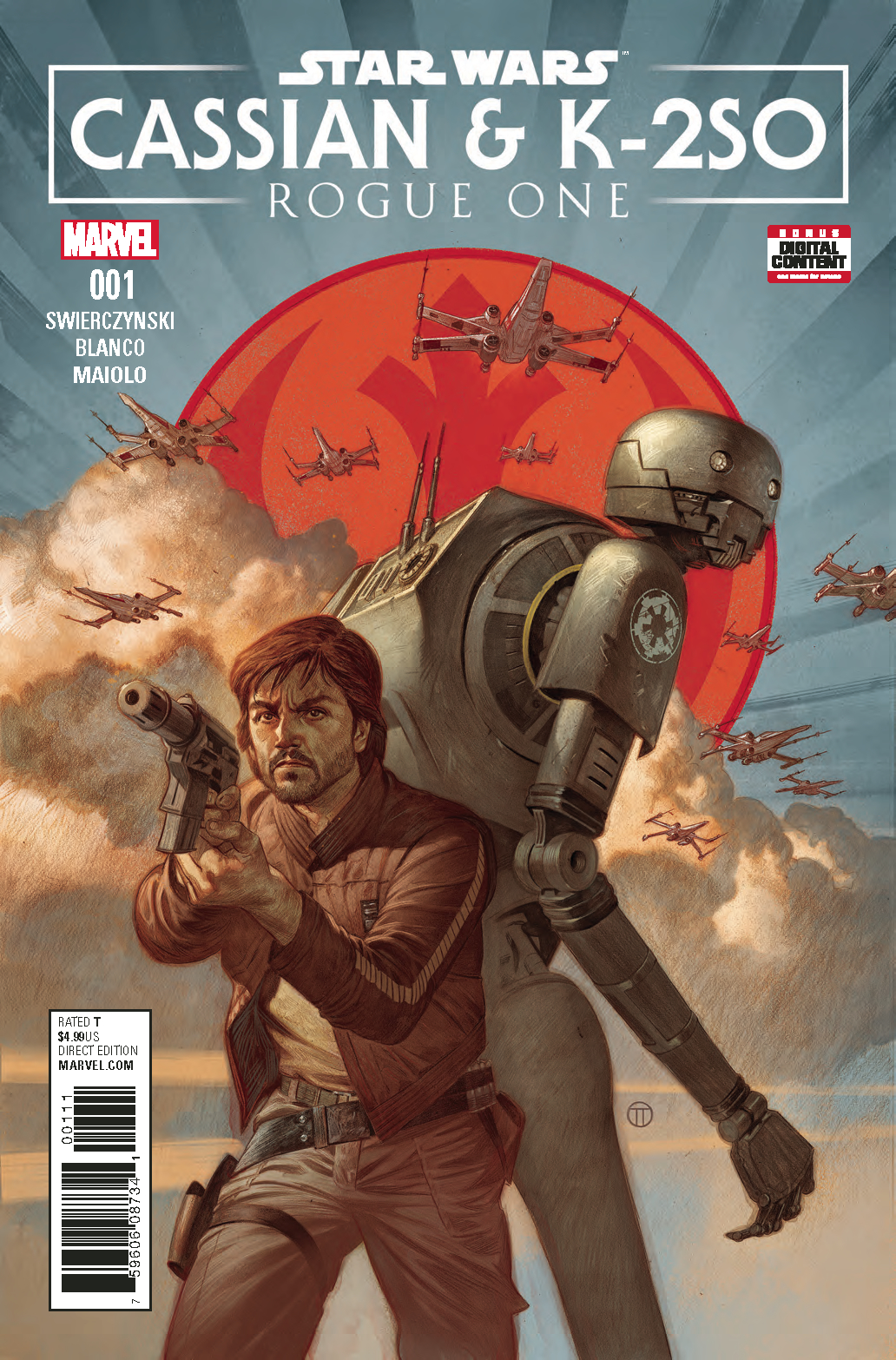 STAR WARS ROGUE ONE CASSIAN & K2SO SPECIAL #1 | Picked by Dave
(W) Duane Swierczynski (A) Fernando Blanco (CA) Julian Totino Tedesco
• Cassian Andor is one of the top intelligence agents in the ranks of the Rebel Alliance, ably assisted by his reprogrammed Imperial security droid, K-2SO. 
•  But naturally, the two weren't always on the same side of the Galactic Civil War. 
•  Now, for the first time, read the story of the pair's first contentious meeting! It is very likely not to go well.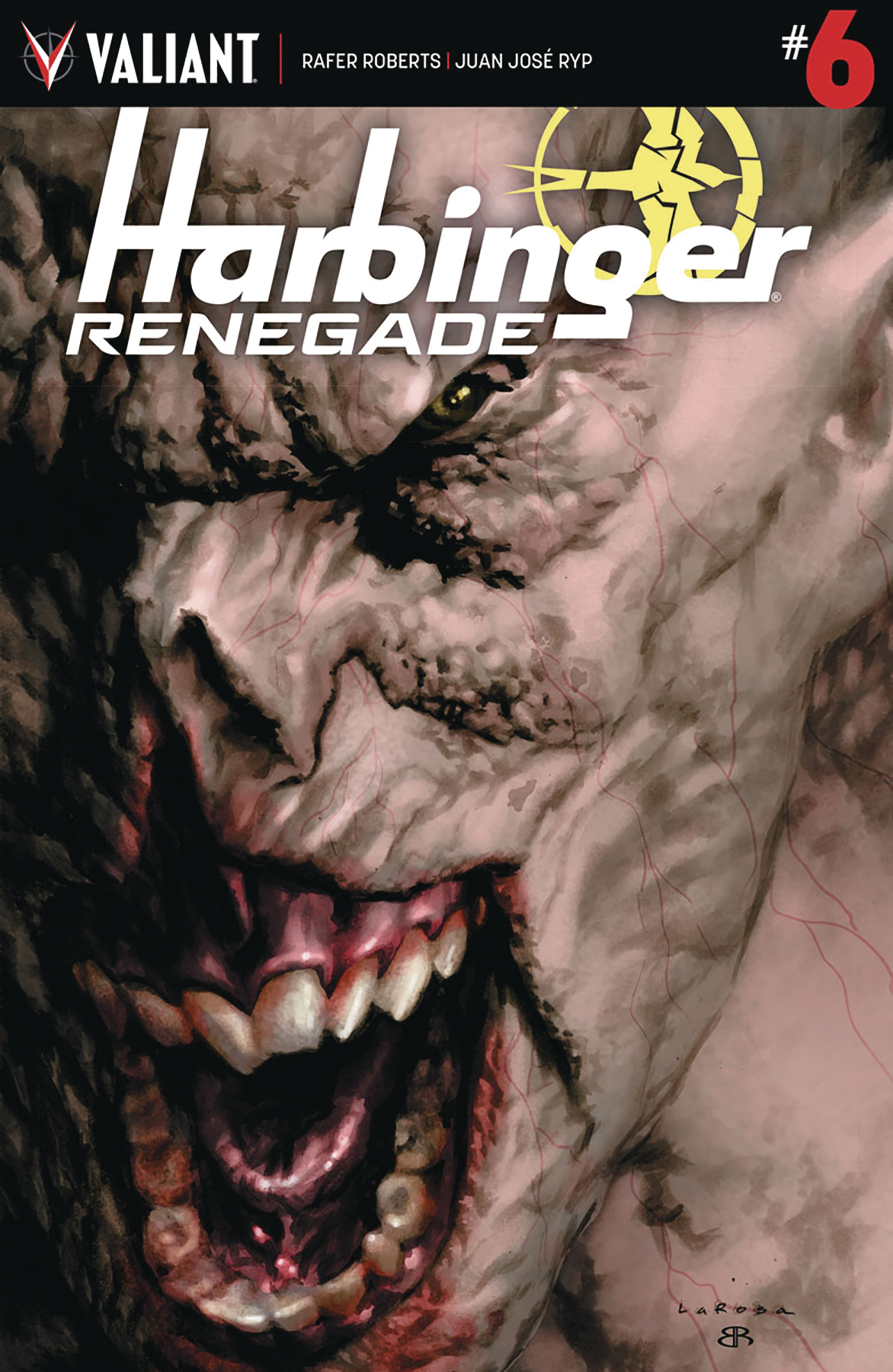 HARBINGER RENEGADE #6 | Picked by Adam & Josh
(W) Rafer Roberts (A) Juan Jose Ryp (CA) Lewis LaRosa
A HISTORIC HARBINGER MOMENT! After "MASSACRE"...witness the brutal beginning of the Renegades' murderous new foe! 
At the height of the Dark Ages, one of the world's first psiots has made a terrible discovery: he is not alone. Lurking in the shadows, a mind as sadistic as it is powerful waits - a predator with a darkness so great, it will consume any rivals that dare reveal themselves. How will the secret of these legendary figures come to bear on the modern day...and how will it shape the catastrophic Harbinger War that is to come?
"MASSACRE" enters an insidious interlude revealing the origin of the Valiant Universe's greatest threat, as Harvey Award-nominated writer Rafer Roberts (Plastic Farm) and incendiary artist Juan Jose Ryp (BRITANNIA) plot the next step in the road to HARBINGER WARS 2!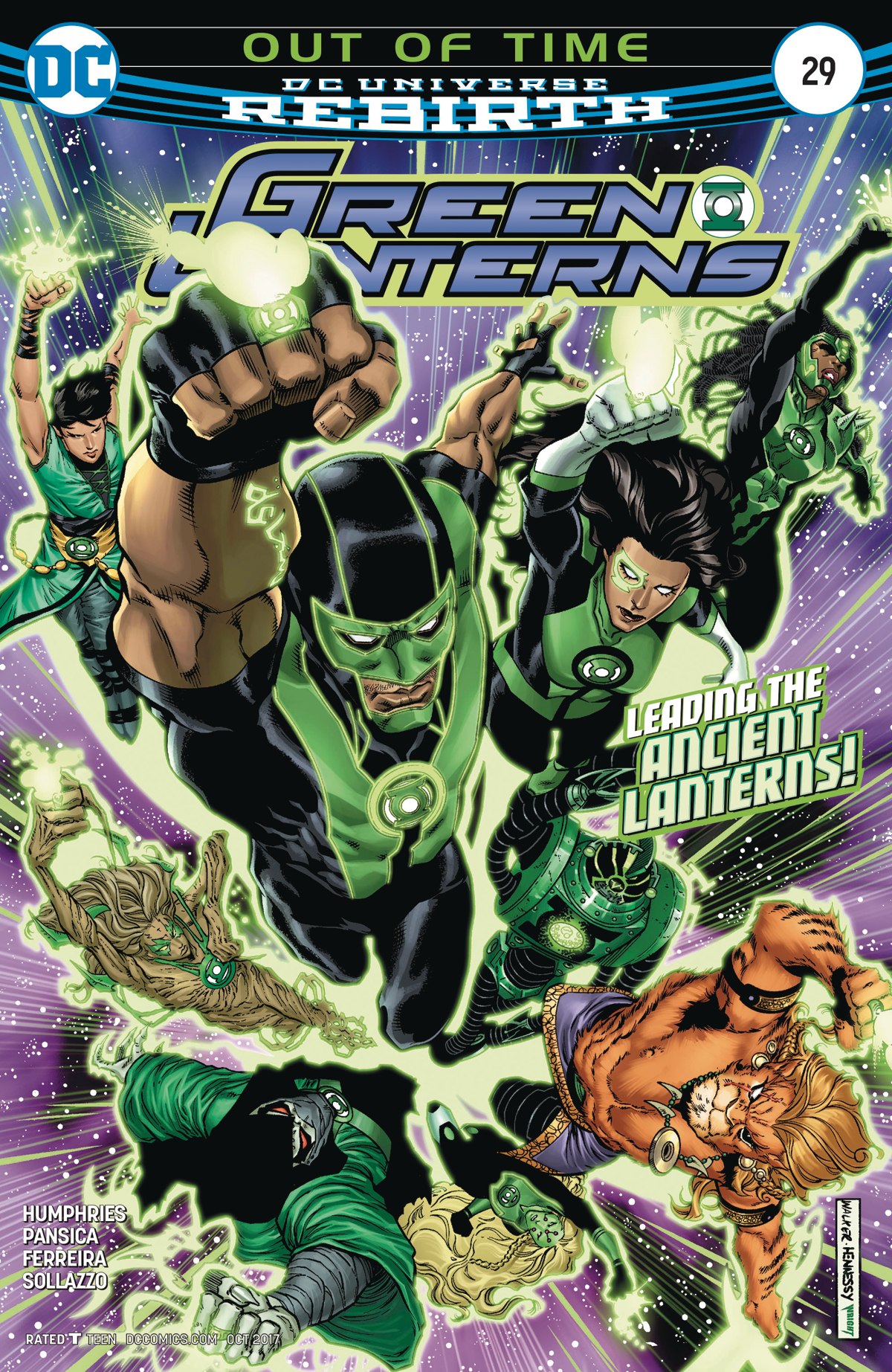 HAL JORDAN AND THE GREEN LANTERN CORPS #26 | Picked by Josh
(W) Robert Venditti (A/CA) Rafael Sandoval, Jordi Tarragona
"FALL OF THE GODS" part one! Ancient hunters awaken across the cosmos to end Highfather and the New Gods! Hal Jordan and the Green Lantern Corps draw the line between gods, but that won't stop the body count as the most powerful deities in the universe go to war.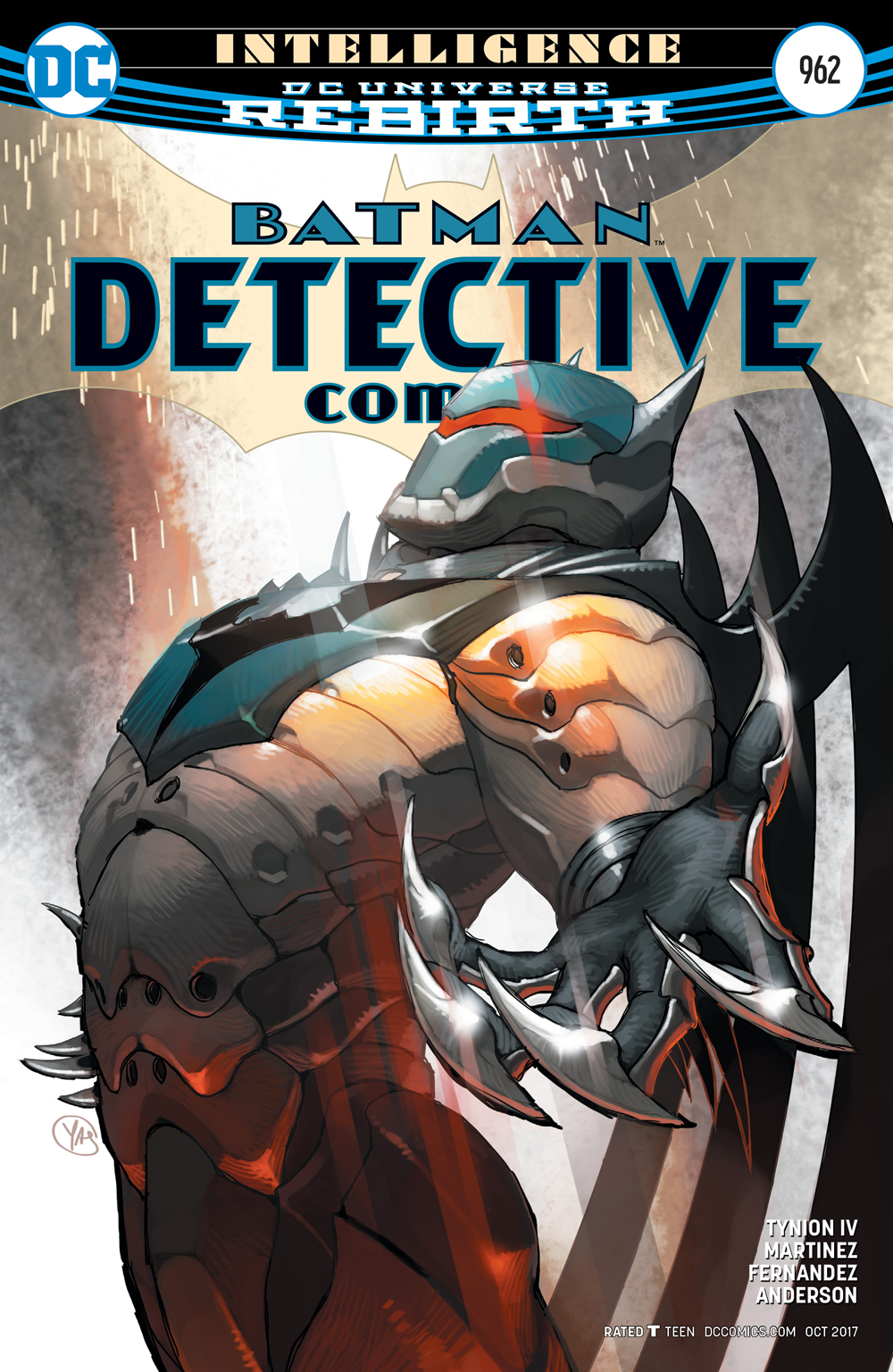 DETECTIVE COMICS #962 | Picked by Pat
(W) James TynionIV (A/CA) Alvaro Martinez, Raul Fernandez
"INTELLIGENCE" finale! Ascalon, the deadly artificial intelligence created by the Order of St. Dumas, is ready to replace Azrael and purify Gotham City... and all that stands in the way of the world's most flawless computer brain is the mind of Batman himself!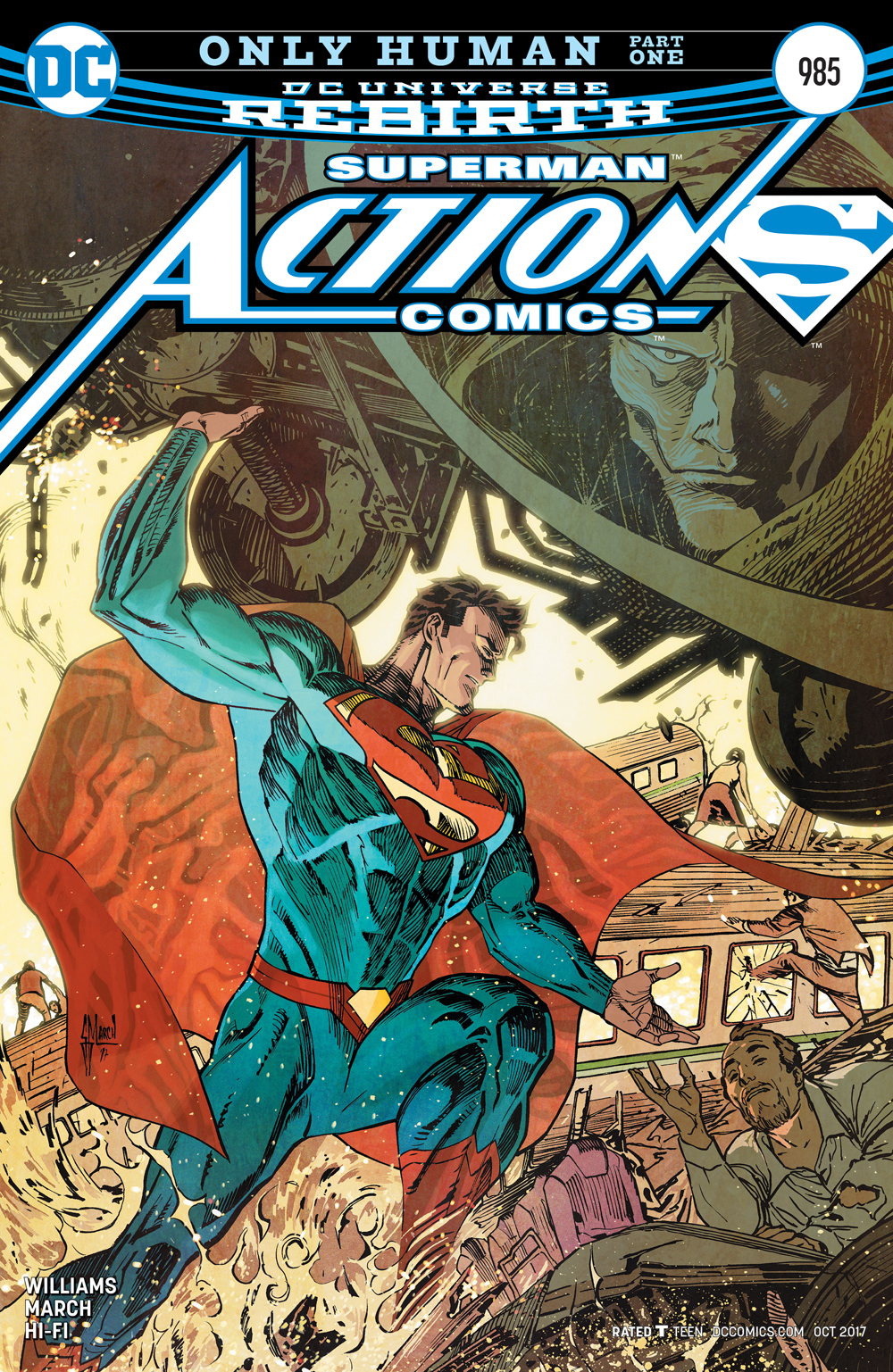 ACTION COMICS #985 | Picked by Pat
(W) Rob Williams (A/CA) Guillem March
"ONLY HUMAN" part one! Superman finds himself side by side with Lex Luthor once more, but is his former foe truly committed to being a hero, or is it just a ruse to gain the Man of Steel's trust? As world events point to something dark on the horizon, the mysterious Mr. Oz makes his final move against the Man of Tomorrow.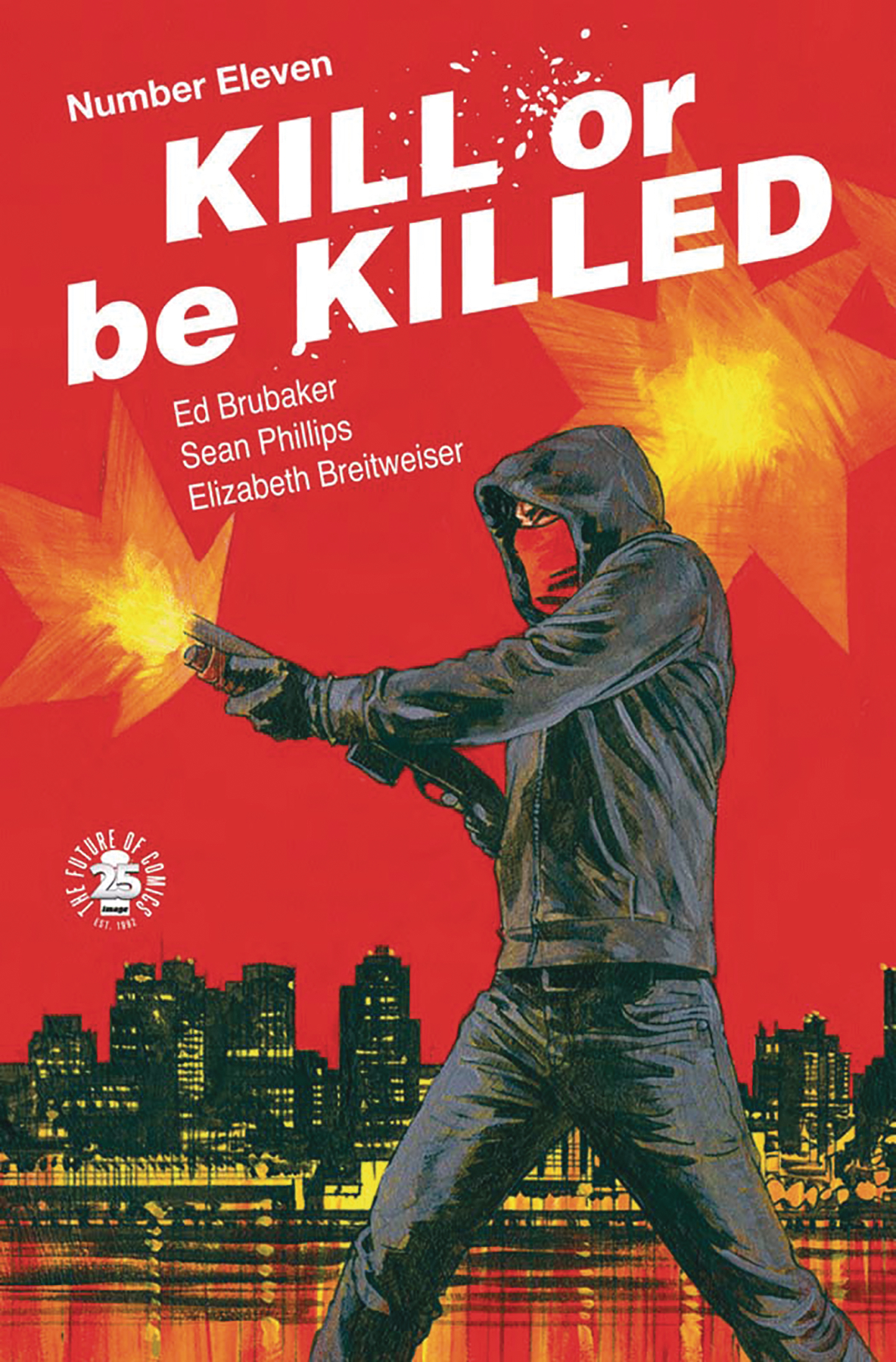 KILL OR BE KILLED #11 | Picked by Dave
(W) Ed Brubaker (A/CA) Sean Phillips
The insane third arc of BRUBAKER & PHILLIPS' hottest book yet begins with a bang, as Dylan turns the tables on the men hunting him.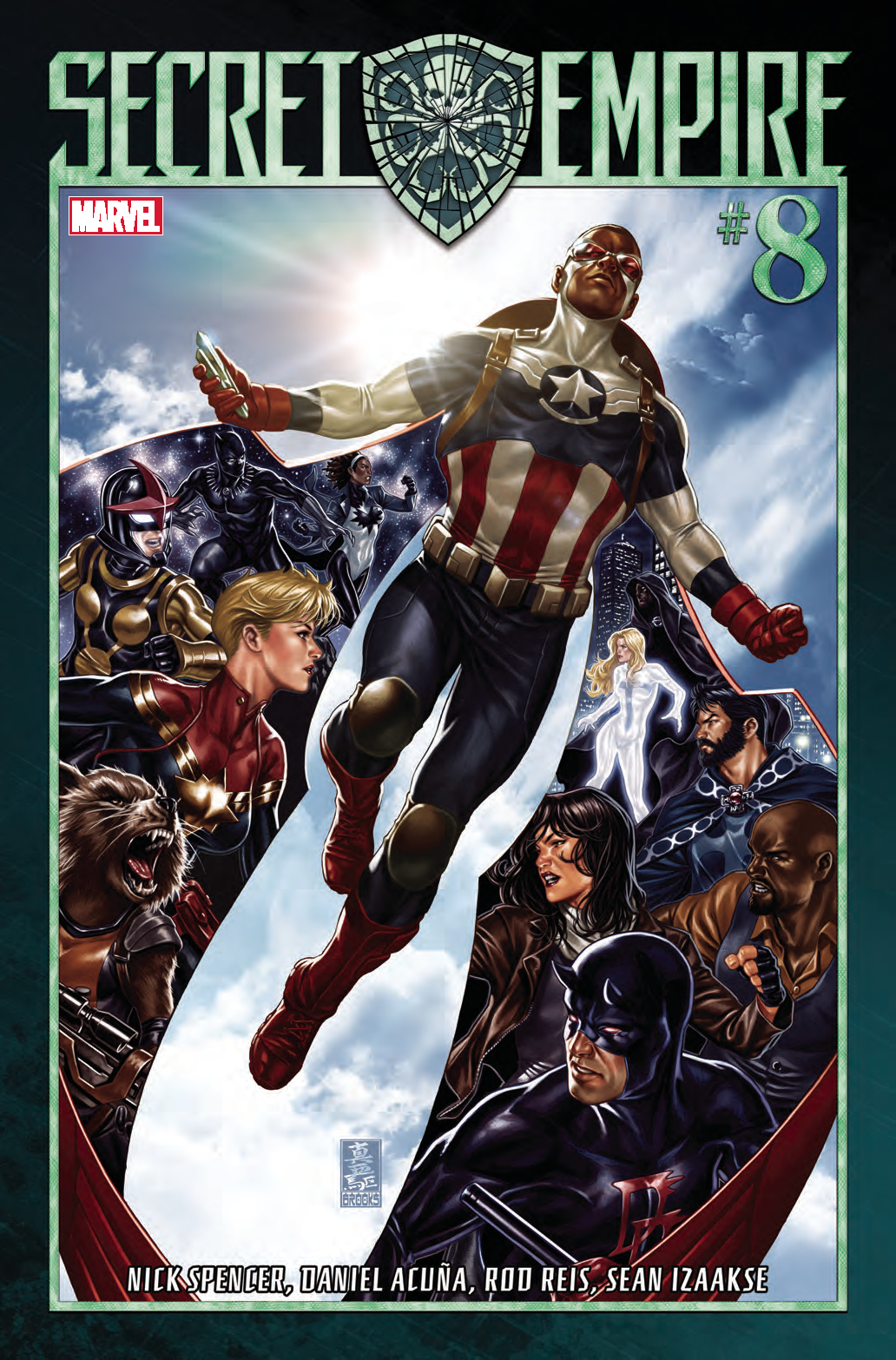 SECRET EMPIRE #8 | Picked by Dave
(W) Nick Spencer (A) Daniel Acuna (CA) Mark Brooks
UNITED WE STAND - against the SECRET EMPIRE!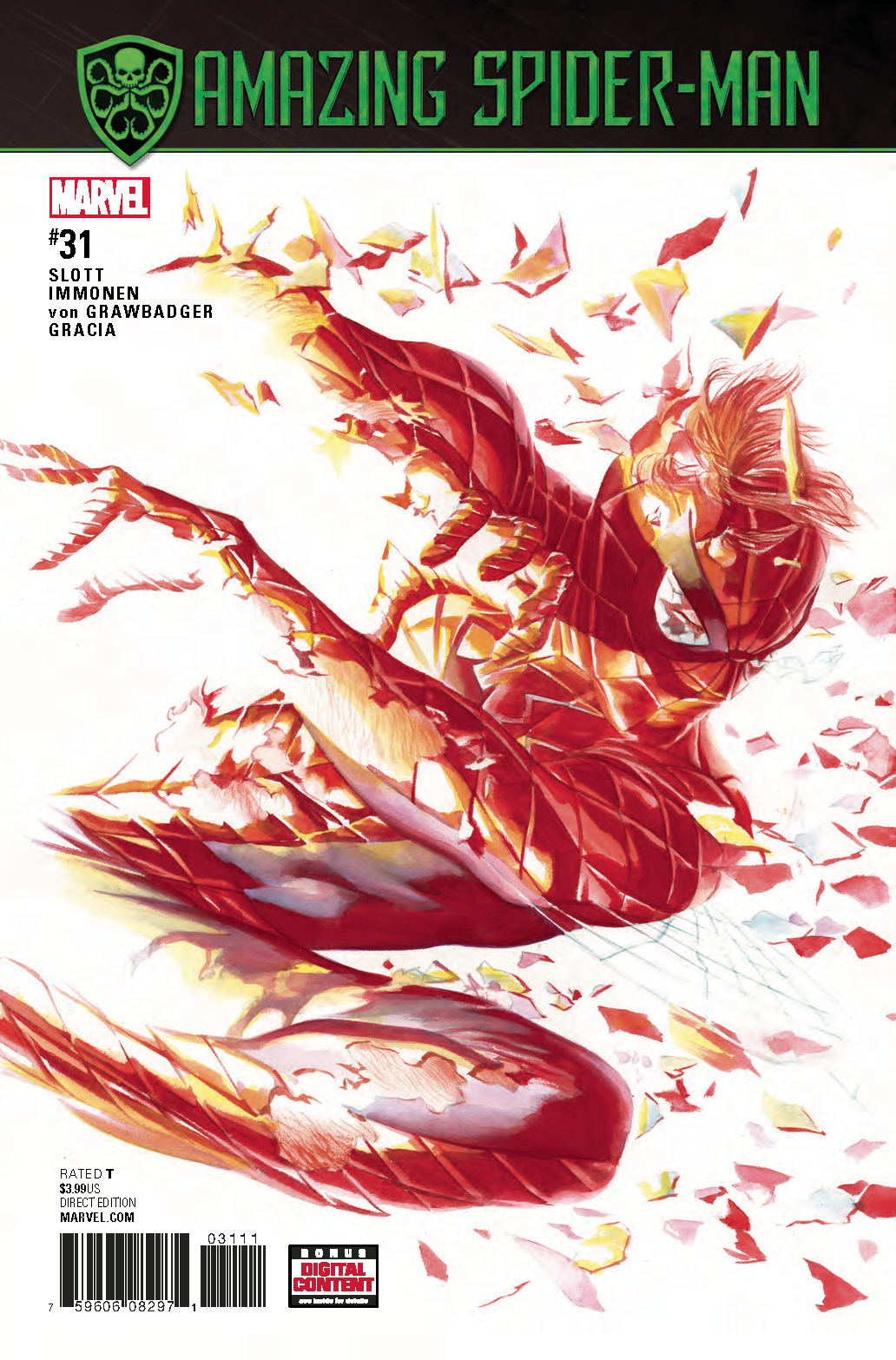 AMAZING SPIDER-MAN #31 | Picked by Adam
(W) Dan Slott (A) Stuart Immonen (CA) Alex Ross
SECRET EMPIRE TIE-IN!
•  On orders from Captain America, the Superior Octopus is taking the fight to Parker Industries.
•  Peter must use the full force of his company to stop Ock and Hydra, but WILL IT BE ENOUGH?!