Join us Wednesday from 4:00-7:00 for Ron Frenz signing his new Sitcomics book, The Blue Baron#1!
Since 1776, The Blue Baron has defeated alien invaders, super-powered psychopaths and megalomaniacal mutants – but will he be able to conquer 8thgrade?!  Sitcomics™ proudly presents an action comedy about what happens when a 250 year old hero permanently switches bodies with a 13 year old zero!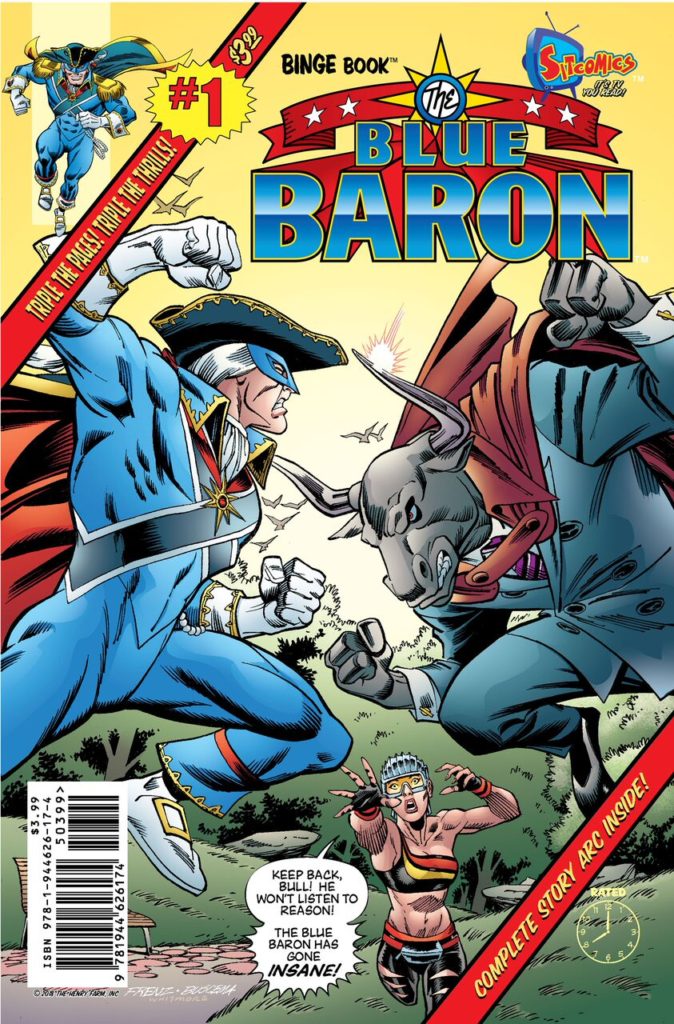 Mr. Frenz began working for Marvel Comics in the early 1980s. Frenz's early work includes such titles as Ka-Zar the Savage, Star Wars, The Further Adventures of Indiana Jones, and Marvel Saga. His first credited story for Marvel was published in Ka-Zar the Savage #16.
Mr. Frenz has a history of working on comic book series in which the characters were not in their original costumes/identities. Spider-Man wore his black costume, Thor took on a new secret identity and look, and Superman changed costumes and powers while Frenz was the regular artist on their titles.
Frenz became the regular artist on The Amazing Spider-Man in 1984 and the stories he pencilled included "The Kid Who Collects Spider-Man" in issue #248  and the first appearance of Spider-Man's black costume in issue #252. Among the new characters introduced during his run were the Puma in issue #256 and Silver Sable in #265. Frenz and Tom DeFalco revealed that the "black suit" was an alien creature in issue #258. Frenz drew The Amazing Spider-Man Annual #18 (1984), a story written by Stan Lee, which featured the wedding of Spider-Man supporting characters J. Jonah Jameson and Marla Madison. Frenz had originally been brought onto the series as a short-term substitute for John Romita Jr., but was retained when it became apparent that he meshed well with series writer DeFalco.
In 1995, Frenz moved to DC Comics and became the artist on Superman. The following year, he was one of the many creators who contributed to the Superman: The Wedding Album one-shot wherein the title character married Lois Lane. Superman received a new costume and new superpowers in Superman vol. 2 #123 (May 1997). Frenz drew part of the Superman Red/Superman Blue one-shot which launched the storyline of the same name which ran through the various Superman titles.
Frenz returned to Marvel with the Spider-Man: Hobgoblin Lives limited series in 1997. DeFalco and Frenz reunited and introduced Spider-Girl in What If…? vol. 2 #105 (Feb. 1998). Spider-Girl became an ongoing series in October 1998 and ran until issue #100 (Sept. 2006). A new series The Amazing Spider-Girl was launched the following December. Other Frenz and DeFalco collaborations include the short-lived series A-Next. Frenz illustrated the "This Happened to Me" feature in the magazine Outdoor Life. He is also a contributing editor to Charlton Spotlight magazine.
On June 4, 2009 Ron Frenz was the recipient of the 2009 Nemo Award for Excellence in the Cartoon Arts.