Because I forgot to post them (Sorry Dan)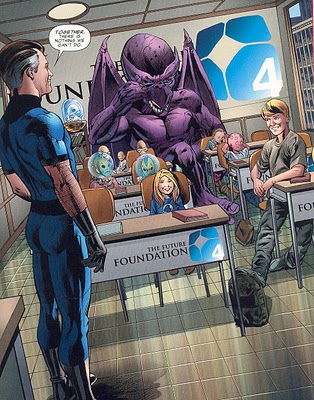 Mr. Degnan's Gradebook
week of August 10th, 2011
AMAZING SPIDER-MAN 667: B+
I love Ramos' Spider-Man art.  As for the story, I'd really like to know when this event takes place in regards to Fear Itself.
BATMAN AND ROBIN 26: B
Not a bad stand alone issue, but I dislike Tocchini art; however, it does work with this story's tone.  The cover by Chris Burnham is my favorite part.
DETECTIVE COMICS 881: A+
Is there such a thing as a perfect comic?  If so, this may be it.  The Snyder run will be remembered as one of the best.
FEAR ITSELF 5: A
Bonebreaking fun as Thor whips up on the hammer wielding duo of the Hulk and the Thing.  Loved Thor's witty remarks.
FLASHPOINT: EMPEROR AQUAMAN 3: B
Now we know how the war between Aquaman and Wonder Woman began.
INCREDIBLE HULKS 634: C+
Bland story telling with lots of smashing.  Thankfully, it all comes to an end next issue.
NEW MUTANTS 29: B-
This team should just be renamed the Ghostbusters because they can't seem to escape demons, monsters, and dead people of Limbo, Hel, Hell… At least Mephisto shows up.
X-MEN: LEGACY 253 C-
Well, at least we know how Rogue and the gang get to the end of the universe so quickly.  Hoping for an improvement in story quality.
Dan Degnan is a High School English Teacher and Coach but more importantly a comic book enthusiast.  He currently reads the majority of Marvel titles and most Batman books.  He will be trying quite a few DC books after the relaunch so DC will be appearing more frequently in his reviews.