Review by Dan DThe X-Men event of the year begins with a bang featuring Kid Omega, a whole lot of Sentinels, and The Hellfire Club.
THE GOOD
Cyclops and Wolverine are front and center from the start.  We already know the outcome of the event; Cyclops and Wolverine split from each other with their own teams.  But right now, they are as close as the two have ever been.  We also know that there is a serious threat that will eventually reach the X-Men from the Prelude to Schism miniseries; however, those events have yet to happen.  After reading this issue, we can assume the serious threat from Prelude is an obscene amount of Sentinels.  Despite knowing the outcome, I still felt excited for whats to come after reading this issue.
THE BAD
I am not a fan of Carlos Pacheco X-Men art.  I didn't like it in the .1 issue not that far back and I don't like it now.  His characters are too bulky, especially Wolverine and Colossus.  I know Colossus is supposed to be big, but his head is far to small for that body.  Logan simply isn't that big.  That being said, I do like Pacheco's Sentinel, he captures the classic look while still making it look threatening.  Regardless, I am happy that a new artist will pencil the second issue.
THE UGLY
The price tag.  $4.99 is a bit steep.  I am not one to shy away from the occasional higher price, but Marvel needs to realize that there are people that may pass because of the cost, especially if every issue is $4.99.
As an X-fan, I am happy with Schism so far.  I liked Prelude, and this issue introduced some nice concepts.  I feel like the X-Men stories have been lack luster since Second Coming.  This offers X-fans a new story as well as a new direction for the franchise.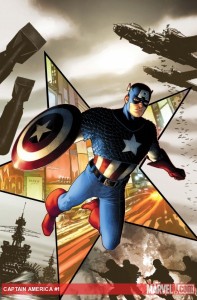 Captain America 1
Written by Ed Brubaker
Penciled by Steve McNiven
Review by Dan D
Steve Rodgers returns as Captain America in an all new book continuing Ed Brubaker's epic six year run.
THE GOOD
Steve Rodgers wields the shield once more.  Mostly everyone knew this moment was coming; if you've read the most recent Fear Itself, you see Steve take up the mantle once more.  I still; however, feel a bit of nostalgia seeing Steve as Captain America in the book Captain America.  As for the story, its a great jumping on point, especially for the soon to be movie goers.  Brubaker's story is easy to follow for new readers but in the same breath familiar to long time readers.  There is action (lots) and a great supporting cast (Nick Fury!).  The art by McNiven is clean and crisp, as well as detailed in both character and background.  The story brings both past and present together.  Needless to say, its a fun ride.
THE BAD
This issue presents a categorizing nightmare, at least for me.  I really wish that Marvel would have just relaunched the series.  Instead, Captain America and Bucky will continue the numbering from the original book.  Why Marvel couldn't make Captain America and Bucky the new book and relaunch Captain America as a number one so that someday they could go back to the original numbering (issue 700) is beyond me.
THE UGLY
Hard to label anything ugly in a number one issue with a beloved character.  One thing that the editors could have done though was include a "this issue takes place…" note to clarify that these events take place after Fear Itself, which I assume they do.
Overall, this is a fun number one.  Long time readers I am sure will read.  Hopefully, with the movie and the number one, new readers will jump on board.  Ed Brubaker is a master story teller and his work is really worth the read.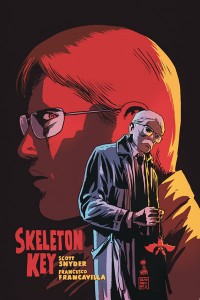 Detective Comics 879
Written by Scott Snyder
Penciled by Francesco Francavilla
Review by Dan D
The truth about Jim Gordon's son is revealed.  Plus, one of Batman's deadliest foes escapes!
THE GOOD
Just about everything.  Seriously.  This book is excellent, possibly the best on the shelves right now.  Scott Snyder and Francesco Francavilla are the perfect pair.  The art captures the essence of Gotham City and its gritty characters.  The tone of Snyder's writing is dark and brooding, exactly how a Batman comic should feel.  The surprise appearance, which I won't give away, was unexpected and exciting.  Written perfectly, drawn just as well; truly scary stuff.
THE BAD
No Batman.  Not a problem for me, but some might ask where is Batman?  The caped crusader has yet to play much of a role in this story line with the focus being on Jim Gordon and his family; however, I do expect Batman to play a more direct role after witnessing the escape of one of his greatest foes.
THE UGLY
The fact that this book has to come to an end.  The creative team will be split up after the reboot.  A real shame because Francavilla's darker style works so well with Snyder's edgy writing.
With the relaunch coming, some people may be staying away from a book in the middle of an arc.  That would be a mistake in regards to this book.  If you aren't reading, you should be.  Too good to miss.