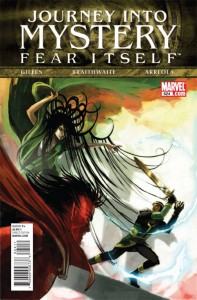 Journey Into Mystery 624
Written by Kieron Gillen
Penciled by Doug Braithwaite
Reviewed by Dan (formerly currentcomicguy)
Loki journeys to Hell and Hel (lol) to ask for  aid against The Serpent.
THE GOOD
There was a lot of good in this book as far as I am concerned; Loki's plan coming to fruition is probably the best of it.  Long time readers will appreciate how the "new" Loki is using the actions of the fallen Loki to his advantage.  Truly a credit to Gillen; he is using past story arcs to advance the Fear Itself storyline.  Also, The Destroyer in the background of page two and Mephisto wearing a bow tie and tuxedo was a nice touch by Braithwaite.  The $2.99 price tag wasn't too bad either.
THE BAD
Thor purists may complain that Thor was not in this issue, nor has he really been part of any others since the title change.  I don't have a problem with it (and I don't even read Mighty Thor) because I love all things Asgard.  I guess though maybe a page or two showing Thor back on Earth wouldn't have hurt.
THE UGLY
I really can't think of anything to deem as "ugly."
I've been a fan of this book for a long time now, even more so since the title change.  Loki is really stealing the show, outshining Thor and Odin.  I'm really excited to see how Loki's plan plays out.  Is it possible that young Loki will save Earth from The Serpent, redeeming himself for the events caused by his former self during the Siege?  I think so.  If you asked me before the title change, I would have said that outcome would be cheesy, but now I hope it does happen because Gillen has really done wonders with Loki's character.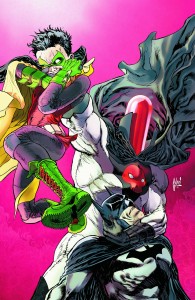 Batman and Robin 24
Written by Judd Winick
Penciled by Greg Tocchini
Reviewed by Dan

Batman and Robin must join forces with Jason Todd, aka the Red Hood, to save an old friend.
THE GOOD
Seeing Jason Todd back in action.  Todd's internal monologue about what makes him different than Batman sums up his character perfectly.  Good writing by Winick for sure.  Jason Todd's spare Red Hood costume looks pretty sweet too.
THE BAD
The plot itself.  I have a hard time believing Batman would so easily ally himself with Jason as well as openly admit to Robin about not really having a plan.  Seems a bit out of character for a guy who has led a few teams of heroes.  I know Dick is less the planer compared to Bruce, but he is still supposed to be a master tactician.
THE UGLY
The art.  Both the pencils and colors just didn't do it for me.  Speaking of art, is it too much to ask for a consistent interpretation of what Damion looks like?  Sometimes he like a kid.  Sometimes he looks an 18 year old.  As far as I know, he became Robin when he was 10.  So why can't he be drawn that way? 


I look forward to seeing more of Jason Todd, even if its only for a few issues.  I also look forward to the stupid Super 8 insert coming to an end.  And the ugly Green Lantern advertisement on EVERY FRICKIN DC COVER.