For my first big event as Pittsburgh Comics, I am having Jill Thompson come in to do a store appearance and signing of her new hardcover collection, Scary Godmother.  The signing will be on Saturday October 23rd from 2-5pm.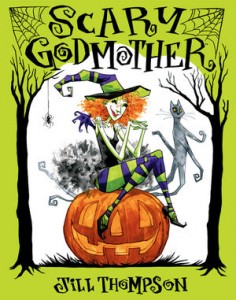 It's Halloween night and it's up to Scary Godmother to show one little girl just how much fun spooky can be! Meet Hannah Marie, who, with the help of Scary Godmother, stands up to her mean-spirited cousin Jimmy and her fear of monsters on her first Halloween adventure with the big kids. Later, Hannah joins forces with Orson, the vampire boy, to unravel a mystery near and dear to their hearts. Some of Scary Godmother's closest (and most frightful) pals get in on the fun too, including Bugaboo, the Boozle, and Skully Pettibone.
* Four of Thompson's Eisner Award–winning, fully painted children's books are collected here, in their entirety, for the first time (Scary Godmother, Revenge of Jimmy, The Mystery Date, and The Boo Flu). This deluxe edition also features some of the earliest concept designs for this haunting and imaginative series.
* Thompson's Scary Godmother series resulted in a successful stage show and an animated special shown on Cartoon Network, Scary Godmother: Halloween Spooktacular and Scary Godmother: The Revenge of Jimmy.
"Jill Thompson's Scary Godmother is another of this comics maestro's knockout punches. Thompson delivers a series that shrugs off the censors like the dead weight they are and writes and draws directly at readers of all ages, all experience. Her work is always a delight, and much more: her craft, her precision, her delicious whimsy, all serve as a goad to the rest of us cartoonists to have as much fun as she's obviously enjoying, and to work our butts off as hard as she does. She only makes it look easy. That's the sign of a master." -Frank Miller
"A beautiful and ambitious piece of work . . . " -Alex Ross
From Jill Thompson's Blog: "I'm the creator of Scary Godmother and Magic Trixie. I have been illustrating comics for over half my life. And I love it. I'm mighty fortunate to do this for a living. You might be familiar with my artwork on such titles as Sandman, WonderWoman, Finals, The Dark Horse book of… and many many more. Google me. You'll find something out. The Wikipedia entry is sorely lacking, tho. I guess I need a bio. Listen to me blather on about all the things I like…knitting, design, crafts, cooking, gardening…wrestling, improv… It all depends on how I'm feeling."
JIll Thompson's Wikipedia page
So please make plans to come out and say hi.  I'd love to a have a full store.  Tell your friends!
We'll make it a proper Fall party.  Apple cider and Pumpkin cookies!
Come in costume if you like!