With everything that's been going on, I haven't read much at all lately. Maybe the new Brightest Day or Boys. I read a couple last night, so here goes.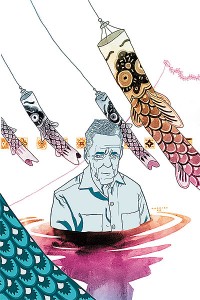 Daytripper #9
Daytripper has been a really enjoyable ride. After reading the first issue, I knew we were in for something different. Not to give too much away, but the main character dies at the end of issue #1. So, I thought, where do we go from here. Well, it has been a great ride. This issue really brought the prior 8 together. And this issue could easily have satisfactorily wrapped this series up. But we have the joy of one more issue. It has been a delight to read in issues, but this one is going to be fantastic as a trade. I will be pushing it on all of you. Be warned.
Brothers Ba and Moon have intrigued me for a while. Reading the first issue of Casanova was fun because one did the main story and one did the backup. And I remember looking at it going, OK, while very very similar, this one did Umbrella Academy while this one does Daytripper. I am going to have to check and see if I have there book DeTales in stock. I could spend all day reading the work of these guys.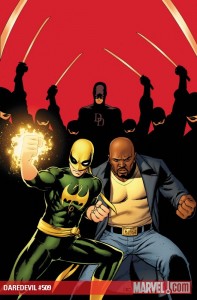 Daredevil #509
Now, I must confess something up front.  I am a longtime Daredevil fan.  It was the first book that really sucked me in and make me want to read it all.  It is the only "old" book that I have a full run of in my collection (I can't really call Howard the Duck old).  So I come to this as someone with an attachment to the character and the title.
Daredevil has almost seemed like a challenge for the writers.  Not so much the character, but to one another.  When Bendis turned the book over to Brubaker, he left Matt Murdock in jail.  Good luck, Ed!  Then Brubaker had his own twist (SPOILER ALERT IF YOU HAVEN"T READ DAREDEVIL IN A YEAR) making Matt the leader of the Hand.  So my guess is that Andy Diggle and Antony Johnston are going to leave Matt in just as bad a shape when they leave.  Form all of the Marvel promo stuff, it looks like Matt will be dead or at least unable to be Daredevil anymore.
What that does is it allows them to do whatever they want.  There is no assumption that Hornhead is actually going to survive the story.  Now, he has to make it a few more months to finish up the miniseries though.  While there is a big explosion, its probably not going to take him out.  But this issue did reintroduce a character from back in the 90s who could be a very interesting addition to this story.  My only problem with it is that twice, Dakota stopped a Hand ninja from killing her by saying "Wait!".  Within a couple pages.  An interesting art item; I didn't examine each page, but many tomes I noticed the use of fingerprints to add texture.  Once in the background and once on Daredevil's head.  I'm not sure what it means or symbolizes (The Hand, maybe).  I just found it interesting.  I don't recall seeing that before.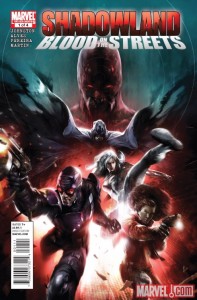 Shadowland Blood on the Streets #1
OK, I'm sure I am not the only one getting tired of the endless tie-ins to events that have little importance or actual relation to the main story.  Dark Reign The List comes to mind.  But this one is written by one of the guys writing Daredevil, so maybe it'll be good.  Its a tie-in starring The Shroud, Misty Knight, The Paladin and Silver Sable.  Hmm.  That's not to appealing.  2 from the 90s explosion.  Misty Knight I know of, but I don't know if I'd go out of my way for her.  Paladin was fun in Thunderbolts.  OK, lets see where this goes.
Basically its a murder mystery.  Who is killing bad guys?  Hmm.  The whole purpose of Shadowland was to create a prison to deal with the people that the justice system can't.  So Daredevil is the main culprit.  Shocking.  But everyone involved has the feeling that something wonky is going on.  Then it ties into something going on in Daredevil.  Then the Paladin shows up with a contract to fulfill.
Not a bad effort at all.  It meets my criteria for good or bad.  Do I want to read the next issue?  That's all that really matters, isn't it.  This one meets that and I will be reading the next one.  Plus, I am going to look forward to the other tie-ins a little more eagerly.  I hope I'm not disappointed.
One side note that I enjoyed.  When the cops are talking about what's going on he refers to the ninjas as kamikazees.  I liked that.
OK, that's as far as I got.  What did you think?
Posted by mjl135 @ August 14, 2010
Tags : Reviews